Earthquake and Seismic Resistance is a Major Advantage of Topsider's Prefab Home Designs
Topsider prefab homes can be found in earthquake and seismic zones from California to Alaska, Hawaii, the Caribbean and Japan. Each house design is individually engineered to meet local seismic code requirements, and to adapt to the natural terrain, utilizing one of the many foundation options available from Topsider.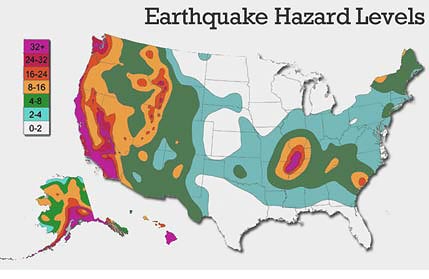 Earthquake Hazard Levels are based on the seismic risk and the damage anticipated from major seismic events. While seismic activity is much more common in California,
Hawaii
, the Pacific Northwest and Alaska, damage from major earthquakes in other areas could be significant since few structures elsewhere are built to be earthquake and seismic resistant.
Topsider's Sturdy Post and Beam Prefab Homes Utilize Foundation Stabilization Techniques that Assure Earthquake and Seismic Resistance
Topsider Homes' unique approach of integrating Post and Beam construction technology with almost any foundation type makes our homes adaptable to nearly any terrain, climate or design need. Foundation types include stilts and pilings, basements, crawl-spaces, and on-grade slabs, as well as our unique pedestal foundation design.
Topsider's Pedestal Foundations - Ideal for Mountainous and Challenging Terrain Building Sites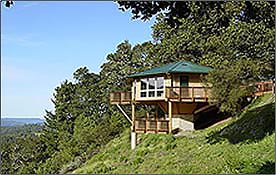 This unique Topsider Home is situated on the side of a mountain in central California near Santa Cruz. It is less than one mile from California's San Andreas Fault.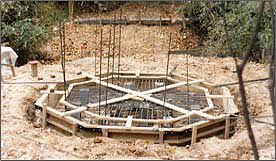 Topsider's unique pedestal base is anchored deep into the ground. Combined with our
Post and Beam building system
, it creates a virtual battleship of a home.
Topsider Reinforced Slab-On-Grade Foundations also meet Earthquake and Seismic Resistance Codes
Depending upon the specific location and the condition of the soil, various approaches are employed to stabilize Topsider Home foundations. Slab foundation homes often only require large steel-reinforced "floating" slabs, but in some circumstances where soil conditions are poor, steel-reinforced "grade beams" may also be required. In other settings, foundations may actually have to be pinned to stable rock formations below. And in the most extreme seismic areas, anchoring foundations deep in the ground to stabilizing pilings may be necessary. No matter what the requirement, Topsider works closely with structural engineers and local building officials to create the appropriate and safe foundation design.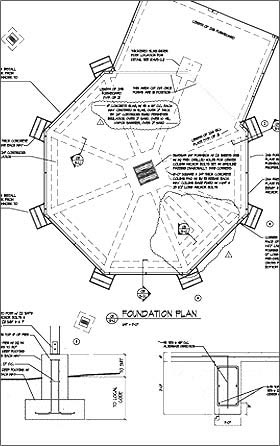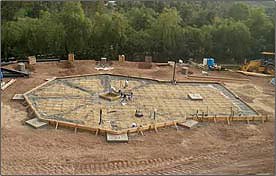 This slab foundation home, built in an earthquake zone, utilizes steel-reinforced "grade beams" for stabilization of the foundation.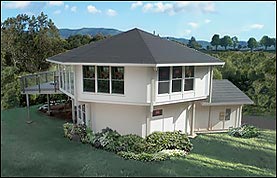 Structural modifications to the foundation needed for earthquake resistance vanish in the finished home's appearance.
For more Information on Seismic & Earthquake Resistant Homes,
Call TOLL FREE in the USA and Canada: 800-941-9801.
Outside the US and Canada: 336-766-9300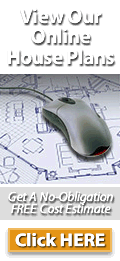 If you're considering building your new house in an earthquake zone, the first step towards beginning your new home is to contact a Topsider Homes' Customer Service Representative. In a single conversation, they can help you focus in on a prefab home design concept and prepare a No-Obligation Free Cost Estimate, tailored to your specific area and needs.
View our
online house plans
for ideas, then simply follow the online instructions for a No-Obligation Free Cost Estimate. Our high quality and unique prefab homes can be easily and quickly constructed by local home builders or qualified do-it-yourselfers.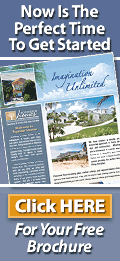 Structural integrity is a natural character-
istic of
Post and Beam
construction. Its stability against the forces of nature, such as earth-
quakes, hurricanes and snow loads, is extraordinary. Topsider Homes' unique approach of integrating Post and Beam technology with almost any foundation type makes its homes adaptable to nearly any location or terrain.