Building Green eco-friendly homes has always been a hallmark of Topsider Homes panelized building system. Indeed, our unique pedestal home design, created in the 1960s, was intended as an architectural solution for home building in environmentally sensitive and topographically challenging locations, with minimal disturbance and impact on the natural environment.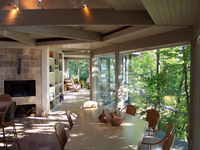 Topsider's in-house design team creates custom house plans that live great
and are energy efficient.
Building Green commits designers, builders and homeowners to consider the environmental consequences of their activities, and to ensure their projects remain eco-friendly. The National Association of Home Builders (NAHB) Green Building Program addresses seven aspects of Green Building: Preparation and Design, Resource Efficiency, Energy Efficiency, Water Efficiency and Conservation, Occupancy Comfort and Indoor Environmental Quality, Operation, Maintenance and Homeowner Education. Because Green Building technologies have improved so dramatically over the last few years, employing Green strategies is now accessible and affordable.
Topsider Homes are naturally energy efficient for a variety of reasons. Our multi-sided designs allow easy orientation of high-performance windows for passive solar heat gain, and for flexibility in positioning roof-top solar panels, without sacrificing scenic views or site preferences.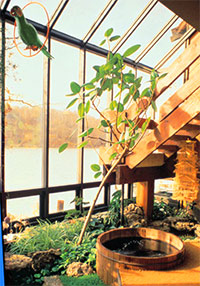 Energy efficient windows provide passive solar heat gain to reduce energy costs.
Standard roof eaves provide shading for natural cooling, and our multi-sided designs feature far less exterior wall surface than similar-sized rectangular homes. This means less wall surface for heat loss and gain, as well as a reduction in corresponding building materials such as lumber, siding, insulation and paint.
During the design of each home, Topsider's experienced design team evaluates locations and types of windows, ceiling fans and roof-venting cupolas for efficient heating and cooling ventilation. Inside comfort is also naturally enhanced by our multi-sided design, which permits better air movement, with less stagnant air spaces. Improved air flow and ventilation saves energy and improves indoor air quality. In addition, each Topsider Home floor plan is designed for efficient living by minimizing interior hallways and surplus space, thus reducing heating and air-conditioning duct run lengths and energy consumption.
Building green homes means designers and builders must minimize the impact of home construction on natural surroundings, particularly as it relates to site clearing, excavation and removal of natural vegetation.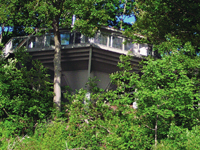 Topsider's eco-friendly pedestal design foundation allows for building green homes on difficult terrain.
The consequences that result from traditional building practices have had significant negative impact on local watersheds and related habitats.
Less obvious, but of equal importance, is the creation and disposal of construction waste and site debris. Those large dumpsters we see at most construction sites merely relocate a project's trash. Building in a way that is environmentally responsible means working together to limit this waste.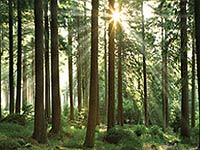 Sustainable design and green building at Topsider starts with farm grown replenishable lumber
Traditional stick-built construction is inherently wasteful. Topsider's prefabricated building system minimizes on-site and off-site waste through efficient, time-tested processes. And we make every effort to recycle or responsibly dispose of unused materials. Thus throw-away materials never impact the local environment.
Green home building has at its foundation the broader concept of sustainability or sustainable design.
Sustainability reminds us to make reasonable efforts to take only what we need, to replenish what we take, and to strive for a balance wherever possible. This concept applies to energy and all natural resources, and requires us to be responsible from the first steps of material selection and prefabrication, through shipping and construction, to occupancy. Issues relating to maintenance, energy consumption and the overall carbon footprint are equally important.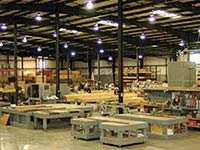 Low energy consumption processes and careful use of materials to limit waste and scrap are only part of Topsider's commitment to sustainability and resource conservation
Sustainability at Topsider begins with material selection and continues through each manufacturing process. Visitors to our plant can easily observe our efficient craftsmanship and use of materials and energy, with many of our production processes still done by hand - the old fashioned way. We also constantly seek opportunities to improve our Green profile, even with respect to our vendors Green practices. The lumber and plywood we purchase, for example, comes from farm grown, replenishable supply sources.
Topsider's continuing commitment to Green Building is achieved by employing energy efficient designs, using materials that are environmentally-friendly and replenishable, minimizing each projects impact on surrounding natural habitats, reducing the production of solid waste and making other responsible, eco-friendly choices. By doing these things, Topsider has been Building Green, sustainable design homes for decades.
Each Topsider Home has many natural energy efficient and environmentally-friendly character-istics. And by focusing on green building practices and sustainable design plans, our in-house design team enhances these natural characteristics even more to meet client preferences.
Topsider's eco-friendly
pedestal
house foundation requires only limited excavation and disturbance to the natural surroundings. Topsider Homes is among the earliest green building prefabrication firms in the US.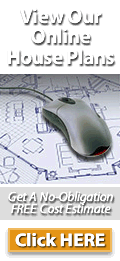 Topsider's prefab home kits are each custom design projects that can include many sustainable design features, such as passive solar capability with high-performance, energy efficient windows, rooftop solar panels, on-demand water heaters, Energy Star appliances, natural ventilation and so much more.