Modern & Contemporary Home Designs by Topsider Homes
Topsider Homes has been well-known for unique modern and contemporary home designs since the late-1960s.  Our client's homes range in size from small house plans under 500 sq. ft. to large luxury homes approaching 20,000 sq. ft. They have been built in locations from Hawaii to the Florida Keys in the US and throughout the Bahamas, Caribbean, South Pacific and Europe.  Equally adaptable to flat or severely sloping terrain, tropical or arctic environments, Topsider's flexible prefab home building system is limited only by one's imagination.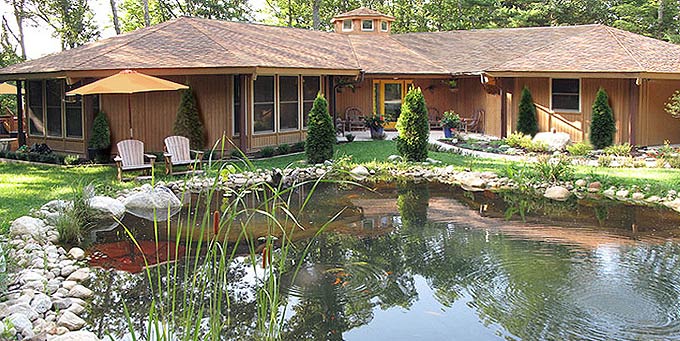 The central element of Topsider's building system is a multi-sided geometric structure with a low-pitch roof, supported by our unique Post & Beam structural framework.  This basic geometry lends itself to a modern or contemporary architectural style. And because of the flexibility of this building approach, an endless number of design arrangements and adaptations with clean lines and modern home style angularity are possible.

Because there are no interior loadbearing walls and all interior spaces can potentially have vaulted ceilings, exposed beams, and walls with generous-sized windows, Topsider home's interiors are naturally open and voluminous, allowing for interior design and décor to meet virtually any style. 



| | | |
| --- | --- | --- |
| | | |
| | | | | |
| --- | --- | --- | --- | --- |
| | | | | |
| This contemporary kitchen design is simple and efficient yet sleek and elegant with a high open ceiling, granite counters and stainless steel appliances. | | Perfectly placed sky-lights in the foyer are just one of the many great features of this home. | | Designing interior spaces with generous floor-to-ceiling windows not only provides more openness to the house but also allows for beautiful panoramic views. |
| | | | | |
Topsider's approach to house designing is as modern and unique as its architecture.  We utilize the latest technologies in computer design, house prefabrication, building specifications and in communicating with our clients, builders and building officials – wherever in the world they may be. And with literally thousands of modern and contemporary style homes built throughout the world, Topsider's experience is extensive.
Each Topsider home is custom designed and pre-engineered by our in-house design staff.  Once house plans are completed it is then prefabricated to the highest quality standards in our modern state-of-the-art manufacturing facilities for shipment to client building sites worldwide. Local builders (who we typically recruit for clients) then quickly and easily assemble the building components and materials - and finish construction of the house.
| | | | | |
| --- | --- | --- | --- | --- |
| | | | | |
| The inside and the outside become one in this contemporary style living room with abundant floor-to-ceiling windows. | | Features like this grand foyer and stairway make this house unique. | | Vaulted ceilings and glass walls combine with Topsider. |
There are hundreds of Topsider modern and contemporary home design photos and house plan ideas online.  We also provide no-obligation, free cost estimates for any of these online house plan concepts "built"- no matter where the building site may be.