Frequently Asked Questions
From custom designing your home to shipping and on-site construction, the process of building your Topsider Home is well-established. Here are some Frequently Asked Questions about our unique and time-proven building system approach.

What is the first step?



How much does a Topsider Home cost?



Are Topsider Homes energy-efficient and suitable for severe climates?



What if I need to finance?



Who can build a Topsider Home?



Are the building permits a problem?



What is included in a Topsider Homes' shell package?



What options are available?



How do I custom design my Topsider Home?



How are Topsider Homes shipped?



Are Topsider Homes shipped outside the United States?



Who is my contact?



Can I visit the Topsider factory?


WHAT IS THE FIRST STEP?
The first step towards owning a Topsider Home is to contact one of our Customer Service Representatives. In a single brief conversation we can generally zero in on a specific model or design concept, and prepare a Free Cost Estimate tailored to your building location. Back to top»
HOW MUCH DOES A TOPSIDER HOME COST?
A general statement about costs, or costs per square foot, is difficult to make. Each Topsider Home is custom designed for client, site and environmental conditions. For example, beach homes require treated lumber, galvanized steel connectors, hurricane windloading, vinyl windows, etc. Homes built on mountaintops require upgraded insulation and heavy snowloading capability. Generally, our pedestal homes cost less than other custom designed"stick built" homes. And our two-story and patio homes are usually competitive in price with conventional homes. Topsider Homes offers no-obligation Free Cost Estimates, utilizing local area builder's costs. These provide a good starting point for knowing what your total "built" or"turnkey" costs are likely to be. Back to top»
ARE TOPSIDER HOMES ENERGY-EFFICIENT AND SUITABLE FOR SEVERE CLIMATES?
Topsider Homes have been built from Alaska to the equator. To allow for the greatest adaptability to local conditions, we offer upgraded, energy-efficient roof, wall and floor insulation packages, and a variety of high performance windows, including energy-efficient, low-e, argon gas-filled windows for cold climates. For hurricane-resistant homes and earthquake-resistant homes, we conform to the highest criteria. And for salt-air and tropical climate homes, we offer treated lumber and special corrosion-resistant galvanized and stainless steel packages for metal connectors and fasteners. Snowload package values are available up to 100 pounds per square foot and can be custom designed beyond that level to meet local requirements. Back to top»
WHAT IF I NEED TO FINANCE?
Topsider Homes will be happy to provide the contact information for lenders with whom we have previously worked. To get pre-qualified, you will need to provide the contact information to the lenders via their online "pre-qual" forms or by mail. Additionally, most lenders will also want to talk with you by phone. Once your lender has pre-qualified you, they will explain their requirements and the steps necessary to complete both the construction and permanent mortgage loans. Back to top»
WHO CAN BUILD A TOPSIDER HOME?
There are no special skills needed for assembly of Topsider Homes. Structural members bolt together easily and quickly in erector set fashion. Floor, wall and roof panels are pre-engineered and pre-assembled, then are nailed or screwed to structural members. Interior walls are"stick built" using normal building materials and construction techniques. We typically locate and pre-screen prospective builders for our clients. This results in lower costs and an easier selection process. In many areas we have home builders experienced in Topsider Homes' construction. Prior to delivery of your Topsider Home, you and your builder will receive complete and comprehensive house plans and architectural drawings, custom prepared to your needs and building site. We also provide an assembly guide for standard models, showing proper assembly sequencing for your new home. Back to top»
ARE BUILDING PERMITS A PROBLEM?
Since 1968 Topsider Homes have been built in some of the finest residential and resort settings in the United States and abroad. Because we sell a building system, each home is custom designed to comply with local codes and conditions. As an example, coastal homes require hurricane-resistant and windloading capability, while mountain homes usually require energy-efficient insulation and heavy snowloading capability. Each country, state (or province) and often, each municipality, has its own building code requirements. We rarely encounter permitting problems, however, permits should only be sought after all preparatory work is complete and a comprehensive submission can be made. Submissions frequently require a site plan, complete house plans and architectural drawings, energy calculations and often structural and/or local engineering for site specific issues, e.g., soil compaction analysis, etc. Our Design Services Department will do much of the necessary preparatory work for permitting, with assistance from your builder. Back to top»
WHAT IS INCLUDED IN A TOPSIDER HOMES SHELL PACKAGE?
Topsider Homes' shell packages include nearly everything needed to build a"weather tight" shell, except concrete, concrete reinforcing steel, common nails, roofing felt and shingles. We provide structural elements, structural fasteners, insulated floor, wall and roof panels, trusses, wall frames, windows, doors, corner panels and in most cases interior framing, stairways, cabinets and counters, floor coverings, etc. Owner/builder responsibilities include supplying material and labor for foundation construction, shell assembly, common nails, paint, roofing materials, interior sheetrock, plumbing, electrical, heating & air-conditioning, appliances, and various miscellaneous and minor construction materials. Typically, for export home shipments, we provide all materials needed to complete the building project, often from bagged concrete to appliances. Back to top»
WHAT OPTIONS ARE AVAILABLE?
Whether you're interested in a small beach house or a sprawling year-round home, Topsider Homes' post & beam building system can provide the perfect leisure living home plan. Topsider Homes' options include various sizes of decking, high windloading and seismic packages, upgraded insulation, coastal and tropical acclimatization packages, various types and sizes of doors, windows and skylights, and innumerable choices of cabinets, countertops, appliances and floor coverings. One of our Customer Service Representatives will be happy to explain in detail the many items and options available through Topsider Homes. Back to top»
HOW DO I CUSTOM DESIGN MY TOPSIDER HOME?
Once your have a general floor plan concept in mind and have received a Free Cost Estimate, the next step is to begin work on your custom house plans and architectural drawings (you'll need these for financing, construction bids and the building permit). We require a Design Deposit equal to 5% of our estimated package price to begin this work. In most cases this is credited 100% towards your home purchase. During the design phase, you will work closely with our Design Services Department to create the ideal custom house plan for your needs and site. Each house plan and architectural set is individually prepared and includes floor plans, sections, elevations and many finish details. When the design phase is completed you should have nearly everything necessary from a technical perspective to seek firm construction bids, apply for financing and ultimately, the building permit. Back to top»
HOW ARE TOPSIDER HOMES SHIPPED?
For domestic delivery, Topsider Homes ship via commercial freight carriers either on flatbed or enclosed trailers. Export-shipped homes are shipped in 20' and 40' containers. Foundation materials, including concrete forms, usually ship in advance of house components, so that when the home package arrives, it can be assembled more quickly. Back to top»
ARE TOPSIDER HOMES SHIPPED OUTSIDE THE UNITED STATES?
Many Topsider Homes are shipped to foreign destinations. Because Topsider Homes are consistent in quality and require only normal construction skills to assemble and construct, they are often the ideal choice for remote building sites. Topsider Homes' staff is experienced in export logistics, customs documentation preparation, and construction challenges. We have shipped to remote building sites worldwide for more than 50 years, and few firms have more expertise in the logistics required for the export shipment of individual homes. When shipping overseas, we typically provide all materials, from bagged concrete to appliances. This approach allows our clients the greatest possible control over potential cost over-runs and helps smooth logistics and improve efficiency in the local construction process. Back to top»
WHO IS MY CONTACT?
Topsider Homes sells factory-direct worldwide. We do not sell through, nor do we offer, dealerships or other representative relationships. This approach allows us to best meet client needs at competitive price levels. In most cases the person with whom you first speak will remain your principal contact throughout your association with Topsider Homes. Back to top»
CAN I VISIT THE TOPSIDER FACTORY?
Whether you are just beginning to look at alternatives, or are ready to buy a new home, we encourage you to visit our factory and model complex, suburban to Winston-Salem, North Carolina. Weekends are often the most convenient time for prospective clients to visit, but we do ask that you call ahead to make an appointment. The closest airport is Greensboro, North Carolina, although Charlotte, North Carolina, is only an hour away. I-40 is less than 4 miles from our front door, and I-77 and I-85 are both within 30 minutes' driving time. If overnight accommodations are needed, we will be happy to help you make arrangements. Back to top»
With just a brief phone conversation, we'll help you select a house plan concept and we'll prepare a no-obligation FREE Cost Estimate tailored to the area where you intend to build. Learn more about how you can
get started today.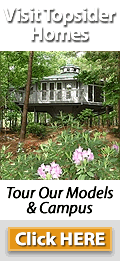 We take great pride in our
history
and in every home and house we produce. Our post and beam building system is precision engineered blending old and new technologies. Learn
more about Topsider Homes.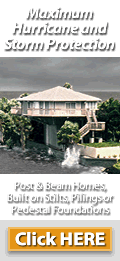 Whether you are interested in a small beach house or a sprawling year-round home, Topsider Homes'
post and beam building system
can provide the perfect leisure living home plan.
Whether you are beginning to look at alternatives, or are ready to buy a new home, we encourage you to
visit our factory and model complex.
We're located only 10 miles from Winston-Salem, North Carolina.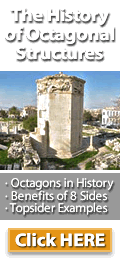 YOUR HOUSE -
YOUR WAY...
Whether building a large house or a small home, our Post & Beam building system allows maximum design flexibility. And our in-house design staff are experts in working with clients to create unique coastal living homes.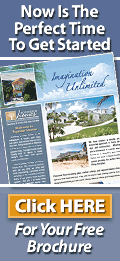 FINISH YOUR
HOME FASTER.Topsider Homes feature a unique prefabricated home building system that's easily and quickly constructed by local home builders or qualified do-it-yourselfers. We'll even help you find the right builder and help with local building permits.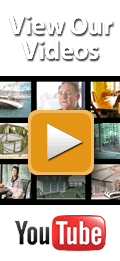 UNLIMITED
DESIGN
FLEXIBILITY

Topsider Homes have more than 300 FREE house plan concepts available to our customers And that's just the beginning. Topsider?s unique
post and beam
construction has no load-bearing walls, so the design possibilities are limited only by your imagination.