Topsider pedestal homes withstood
Hurricanes
Dorian
, Sandy, Katrina and many other storms along the Gulf Coast, Florida, the
Bahamas
and Caribbean.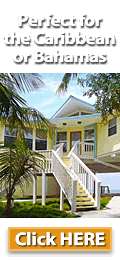 Elevated pedestal homes have been Topsider's specialty
since 1968
, with innumerable homes built in the US – from the
Florida Keys
to Maine and
Hawaii
to Alaska.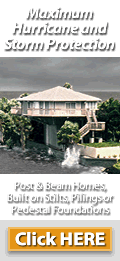 Topsider's unique
Post & Beam
building system makes home building easy, efficient and practical for difficult building sites.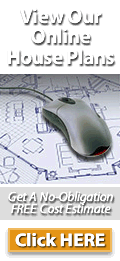 From sandy beaches to snow-capped mountaintops, Topsider designs each house to meet the needs of our clients, their building sites and local building codes.
Pedestal Homes & Houses
Topsider pedestal homes were the first commercially available in the world – with literally thousands built since 1968. Our unique octagonal pedestal foundation and house geometry, together with our post and beam building system make these houses ideal for severely sloping terrain and for coastal building sites where homes must be elevated for protection against flooding and storm surge.
Early Topsider pedestal homes were built primarily in mountainous areas. Because of their adaptability to sloping terrain, small foot print, octagon shape and abundant floor-to-ceiling windows, they were (and still are) ideal for panoramic views of the surrounding natural landscape. Over the years they became even more popular as an attractive alternative to pilings and stilts for elevated house building in coastal settings.
Easily & Efficiently Built
There are no interior load-bearing walls with Topsider's pedestal building approach. That means each house can have its own custom floor plan with living spaces designed to meet client preferences and lifestyle. Interiors are "stick built" using traditional construction techniques common to all builders. The combination of Topsider's precision-designed and pre-engineered "weather tight" shell package components and easily built interiors make for fast and efficient construction with only minor building material waste and minimal requirements for staging areas.
Structural Integrity


Topsider's pedestal structural integrity begins in its foundation, an octagonal concrete room with 10" thick concrete walls sitting atop an 18" to 48" thick reinforced concrete slab footing. From there, Topsider's unique post and beam structural skeleton cantilevers up and outward with large, laminated southern yellow pine beams, timbers and steel columns – each connected to the other with massive steel couplings. Pre-engineered, precision-made 2x6 (and in some cases 2x8 or larger) roof, floor and wall panels are then affixed to the structural elements with large lag-screws – further strengthening the entire structure. This approach allows our pedestal houses to be easily built in erector-set fashion and to withstand hurricanes, earthquakes and heavy snow loads.
We offer dozens of online pedestal house plans (see below) in sizes ranging from small single unit plans of 575 sq. ft. to combinations of multiple units in excess of 4,000 sq. ft. Ultimately each pedestal home we sell is custom designed to meet the needs of our clients, their building sites and local building code requirements.
Popular Pedestal Home Floor Plans