Since the 1960s, Topsider Homes has designed and prefabricated garages of all types, from stand-alone and attached garage plans, to apartment garages and multi-purpose garage structures, incorporating workshops, offices, studios, mother-in-law suites and home gyms. Topsider Homes' panelized post and beam building system offers unlimited design flexibility, and unrivaled quality prefabrication which results in "weather tight" assembly within days... not weeks like most "stick-built" construction. Each prefab garage kit is designed and engineered to meet or exceed local building codes and requirements.
Garages, Garage Plans & Garage Kits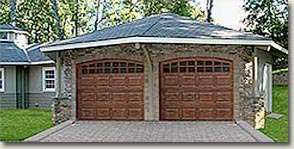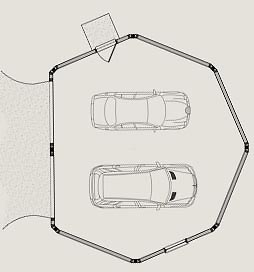 Topsider's garage kits make the perfect stand alone or attached garage addition. Sizes range from two and three car garage plans, up to 1,100 sq. ft., plus four car and larger custom garage sizes as large as may be needed. Each Topsider prefab garage kit is custom designed and prefabricated to the highest quality standards in the controlled environment of our modern factory facilities in Clemmons, NC.
Topsider garage kits deliver ready for local assembly in post and beam and panel form. Our building system reduces to days the normal construction time required to complete a "weather tight" structure, making it ideal for the do-it-yourselfer or contractor needing a fast build out. And our garage plans are adaptable and blend with nearly any existing architectural style or theme. Exterior finish options include stone, brick, stucco, HardiBoard and along with many other traditional siding options.
Whether your interest is a stand-alone garage or an attached garage addition, Topsider Homes' flexible building system can be the ideal solution. We offer stock two, three and four car garage plans, that range in size from 600 sq. ft. up, and can custom design larger garages to virtually any need.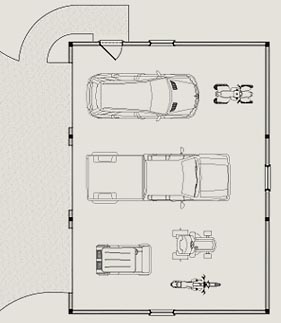 Apartment Garage Plan Ideas - Mother-In-Law Suites,
Rental Units, Guest Quarters and More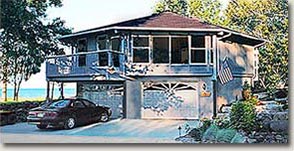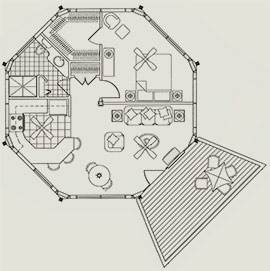 Adding a garage apartment on a second story, or a ground level garage apartment addition can be a good investment and an efficient way to add more living space. Many Topsider clients design guest quarters, mother-in-law suites, rental units, offices, or studios into their garages. With Topsider's post and beam building system, such spaces are only limited by the imagination.
One of the most cost-efficient ways to add needed living space is with an apartment garage. These can easily be attached to an existing home as an addition for extra bedrooms, guestrooms or a mother-in-law suite, or as a stand-alone structure for a rental unit or guest house. The alternatives for design are endless with Topsider's post and beam building system.
Topsider has even designed and prefabricated garages that have multiple spaces above, such as garage apartments, offices or studios, all with separate entrances and with enclosed garage parking below for two, three, or four cars. It is not unusual for clients to also build small vacation homes or getaways over a garage, which allows them storage for their boats and recreational gear below, and security when they are not there.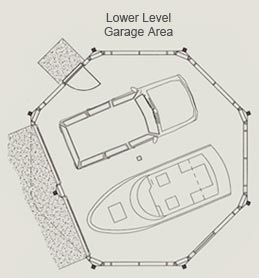 Multi-Purpose Garages - Garage Workshop Plans,
Garage Offices and Studio Garage Plan Ideas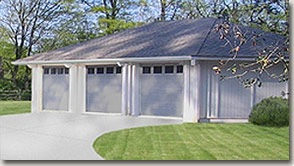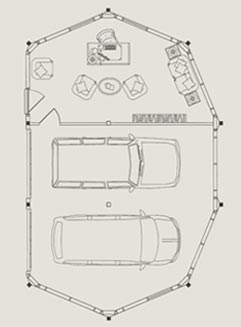 Topsider's post and beam building system makes it easy to custom design and prefab garage kits for any need. We offer garage workshop plans, garage offices and garage studio plans. Each can be designed into a free-standing or attached garage addition, as large or small as may be required. And Topsider's unique architectural and design flexibility makes for seamless blending with existing structures.
Topsider Home's in-house design staff has designed many multi-purpose garages over the years. These include garage workshop plans, studio garage plans and office garage combinations of every conceivable type. Because Topsider's unique post and beam building system offers such great design flexibility and blends so easily with other existing architecture, adding both garage space and an office, studio, or shop can easily and cost-effectively be accomplished. Whether an attached or stand-alone multi-purpose garage, the ideas are limitless.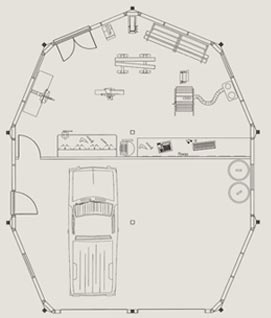 For more information about our Garage and Garage Additions
Call Us Toll Free in the USA & Canada: 800-941-9801
Outside the US and Canada: 336-766-9300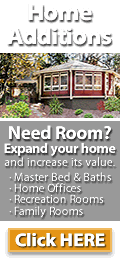 Topsider's prefab garages and garage kits are ideal for one, two and three car garage needs, whether free-standing or attached as a home addition. Custom garage designs for four car garages and larger are available as well. Topsider's high quality building system makes building a garage fast and easy.
View our online garage plans, apartment garage plans and multi-purpose garage plans, then ask for a No-Obligation
Free Cost Estimate
. Our unique prefab garage kits make for easily and quickly constructed by local home builders or qualified do-it-yourselfers.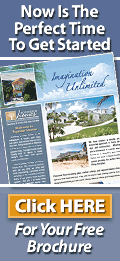 Workshop, office and studio garage plan combinations and home additions are simple and easy with Topsider's panelized post and beam building system. Whether attached or detached, each Topsider garage plan is custom designed by our in-house design staff, at no cost to clients.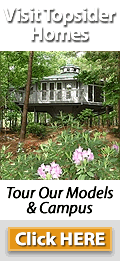 Find the ideal apartment garage plan for a granny flat, mother-in-law suite, guest quarters, rental apartment or office. Topsider offers numerous attached and detached garage stock plans, plus unlimited garage plans, garage apartment plan ideas and multi-use garage plan concepts for any need or size.