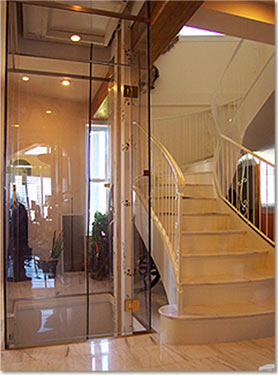 Topsider's post & beam building system allows Universal Design flexibility, like this attractive elevator and sweeping stairway combination.
Universal Design - Value Added for the Future of Your Home. A major benefit that arises from Universal Design homes is that they are the living environment of the future.
Not only is this approach the ultimate in "Green Building," as the life-cycle of a home is increased dramatically, but designs that contribute to the ongoing comfort, safety and well-being of its occupants will be the homes most in demand in the future.
Topsider custom designs each home we create with an eye towards architectural synergy with the needs of our buyers - and not just for today. We specialize in personalized spaces and customization, from foundation choices to finishing touches. Let Topsider design your retirement home.
Plan Your Retirement Home the Right Way with Topsider Homes.
We design homes for independent living - now and for your future needs.
Universal Design and Aging in Place Design. Several building design concepts have been gaining traction as the Baby Boomer Generation reaches retirement age: Universal Design and Aging in Place Design. Universal Design was originally conceived to make new homes more accessible to those with disabilities and physical limitations. Today it incorporates a wide range of design elements that provide a flexible living environment that will readily adapt to changing needs over the course of a lifetime. Aging in Place Design is about renovating and remodeling existing living spaces to help meet a family's needs as they age. At Topsider, our unique building system and flexible custom designs accommodate both approaches.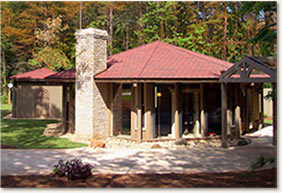 One-level patio homes, built slab-on-grade, are senior-friendly and among the most popular styles.
Universal Design Enables Independent Living. Broadly speaking, Universal Design is a common-sense approach to friendly and functional living environments that work for today and tomorrow - and not just for those with physical limitations. Some of the obvious and easy features Topsider can incorporate into your house design are these:
- Single level patio home designs.

- Open living floor plans.

- Elevators in multi-level homes.

- Wide hallways and doors.

- Large bathrooms with walk-in tubs and handicap sizing.

- Wheelchair accessible kitchens and bathrooms.

- Cabinets and pantry storage areas with pull-out and pull-down shelving.

- Multi-level food prep areas.

- Remote controlled windows and blinds.

- Multi-tier closets with wide aisles.


In one brief phone conversation, we'll help you select a house plan concept and we'll prepare a no-obligation FREE Cost Estimate tailored to the area where you intend to build. Learn more about how you can
get started today.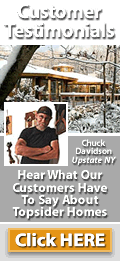 Whether you're just beginning to look at alternatives, or are ready to buy a new home we encourage you to
visit our factory and model complex,
we're located only 10 miles from Winston-Salem, North Carolina.