Building Hurricane-Resistant Homes
Topsider Homes are the perfect combination of beauty, function and safety.  They are designed to blend with their surroundings and endure the worst that Mother Nature can throw at them.  Building hurricane-resistant homes has been Topsider Homes' specialty for more than 55 years.
Our coastal, storm-resistant home designs have been built on pedestals, stilts and pilings and have survived decades of major hurricanes, including most recently, Hurricanes Irma, Harvey, Sandy and Irene.  With numerous Topsider Homes built in coastal areas throughout the US, the Bahamas and Caribbean since 1968, we understand the challenges of designing and shipping our unique precision engineered homes to even the most remote locations worldwide.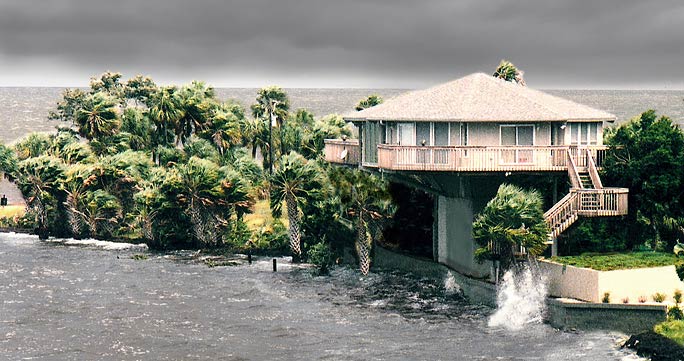 Topsider pedestal homes are uniquely designed and engineered to withstand hurricane-force winds and survive storm surge and coastal flooding. This ocean front pedestal home photographed during a tropical storm is one of many built since 1968 along the US coastline.
As a company, Topsider Homes' in-house design and engineering experience allows us to know and stay current on ever-changing coastal building code requirements and regulations both domestically and abroad.  That's why we take the technical lead for permitting for the coastal homes we sell.

Hurricanes are nature's most devastating weather systems. Even weak hurricanes typically travel great distances, causing storm surge flooding and devastation over a very wide and long path. Hurricane Sandy worked its way from the Caribbean through Jamaica to the Bahamas then up the Eastern Seaboard to reap havoc and destruction in New Jersey, New York and Connecticut.
 

There is no need to sacrifice appealing home design or livability for structural integrity with Topsider Homes.  Our unique and flexible Post & Beam building system allows each home to be custom designed.  Topsider hurricane homes not only meet or exceed local coastal hurricane building codes, but they also provide enjoyable and spacious interior and exterior living areas with panoramic ocean and coastal views.

Whether a small beach cottage or a large luxury home, we know how to design, specify and fabricate high-quality storm-resistant building components that make coastal building go smoothly and efficiently.  We also understand the degenerative climatic effects of coastal area environments, whether building along the New Jersey shore, the Florida Keys, or in the Bahamas.
By using today's modern building materials Topsider Homes provides the lowest possible maintenance for even the most severe climates.  These materials include exterior sidings such as HardieBoard™ and LP SmartSide®, both of which are impervious to insects, salt air and moisture - and the use of stainless steel and galvanized fasteners and couplings that are resistant to corrosion and rust in the manufacturing and assembly processes.
| | | | | |
| --- | --- | --- | --- | --- |
| Today's modern synthetic materials are resistant to the degenerative effects of tropical and coastal salt-air environments. The vast array now available allows a unique blend of quality, style and resilience to the elements - impervious to rot, mildew and insects. | | Topsider fabricates high-quality building components specific to each of its houses. These 2x6 treated lumber walls and structural components with stainless steel fasteners and galvanized steel couplings are staged and ready to ship to a coastal location. | | Built on concrete pilings with the living space more than 20-ft above the ground, this elevated stilt home (shown while under construction) is designed and engineered to survive hurricane force winds and to stay safe from coastal storm surge and flooding. |
Other materials frequently specified for coastal areas include maintenance-free composite decking material and stainless steel cable railings, as well as windows made of high-impact, missile-resistant glass set in high design pressure vinyl window frames.  These are just some of the materials that Topsider Homes utilizes to ensure the highest quality and lowest maintenance of its homes.
| | | |
| --- | --- | --- |
| Topsider's structurally superior pre-engineered piling and stilt homes are secure against hurricanes, tropical storms and storm surge. Coastal homes like this one combine modern engineering and building materials with the strength of a time-proven Post & Beam building system. This house features high-impact glass windows, low-maintenance exterior materials and structural capacity able to withstand wind loads of 180 mph. | | This unique luxury coastal home is built on a marshland waterway on Tybee Island, GA - an area prone to storms. The living levels are elevated and supported on a highly engineered foundation with the ground level enclosed for parking and storage. Flood vents on the ground level allow the unimpeded flow of water during flooding from storm surge without jeopardizing the structural integrity of the house. |
Topsider Homes are the ideal solution for building and rebuilding in hurricane- and storm-prone coastal areas. With an enviable record of safety and resilience along the eastern seaboard of the US and the Gulf Coast against hurricanes like Katrina, Rita, Ivan and Charlie, Topsider's structurally superior Post & Beam pedestal and stilt homes have stood the test of time.



"After Hugo came through, there were some houses with no roofs and windows gone. Some wood houses were just not even there. My Topsider Home looked like there hadn't even been a hurricane. The house was practically untouched."

Captain Ted McDavitt, Virgin Islands -- Click HEREto see the video






"Words could not express how relieved I was to see my place virtually unharmed.  We felt so lucky. We knew that our Topsider Homes were engineered to be hurricane-resistant, but [Irene] was such a big hurricane and the island was pounded for so many hours by such high winds, we almost couldn't believe our eyes."



Daly Reville, Puerto Rico -- Click HERE to read more







"After my home was destroyed by a hurricane, I said I would never build another home at the beach front unless it was hurricane proof. A friend told me about Topsider Homes, and after doing the research, I decided it was the perfect fit. My Topsider has been through numerous major storms and hurricanes, and each time has come through in one piece." 



Joe Kruse, Florida --

Click HEREto view the video
Popular Hurricane-Resistant Homes & House Plans