Prefabricated House Kits Shipped Internationally Since 1968
Topsider Homes has custom designed and export shipped prefabricated home kits internationally since 1968. With thousands of our homes shipped worldwide, no prefab house kit company has Topsider's experience or expertise in building custom homes in foreign destinations and remote locations. Our "single source" approach for all building materials and interior furnishings helps ensure a quality home with fewer delays and cost-overruns.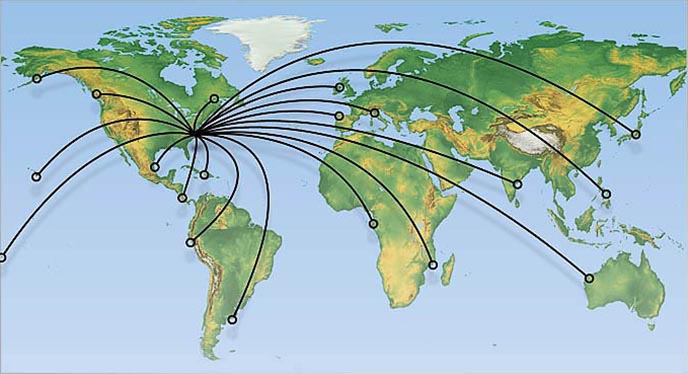 Building in many parts of the world requires the importation of prefab houses and building materials because local materials and/or skilled labor for stick building are simply not available, or are not of a consistent quality.  Using Topsider's building system assures high quality and ease of assembly, and combined with Topsider's many services, e.g., taking the technical lead for permits and approvals, builder recruitment, project logistics and coordination, clients worldwide find Topsider's building solution ideal.

For foreign destinations with deep-water ports, Topsider prefab house kits are container shipped on cargo ships in truck-size containers for easy transportation to the building site.
  

Whether you want to build on an Alpine mountainside or a tropical beach in the Cayman Islands or Malaysia, Topsider Homes can be built on practically any terrain because of our nearly unlimited design flexibility and the ease of assembly of our high quality Post & Beam building system.  

Each kit home and project is custom designed and specified to meet client budgets and requirements. We work carefully with clients during the design phase, providing construction estimates as things progress so that risks, uncertainties and cost over-runs are minimized once the project gets under way.

And we work with local builders throughout the life of each project, making ourselves available at every step of the way until each home is completed. It's all part of our dedication to seeing building projects through from beginning to end.



Some extremely remote building sites do not have deep-water ports, so Topsider's kit home components and building materials are 'export packed' and shipped 'break-bulk' on small vessels, often well off major shipping channels.


Topsider Homes designs and prefabricates each easy-to-assemble kit house with components and materials that can be built by local laborers, often with limited skills in timber frame construction.
We understand issues ranging from international building codes and foreign exchange transactions to intricate shipping logistics and customs documentation. We know how to export package and ship break-bulk (not in containers) to even the most remote building sites well off normal deep-water shipping channels – and we have equal experience shipping to foreign urban centers in industrialized countries where container shipments are commonplace. Regardless of the foreign destination, we know how to design, ship and see home building projects through.
| | | |
| --- | --- | --- |
| Uniquely, Topsider offers international clients a one stop single source approach for materials for their new home. We not only provide easy-to-assemble prefabricated building components, but many clients also have us procure and ship interior furnishings and accessories – and in some instances, even kitchen and linen packages. This is particularly helpful for remote sites in Africa, the Caribbean and the South Pacific. | | The owners of this home enjoy the peace and serenity of beachfront living in the Bahamas. Topsider kit homes are designed and prefabricated to take into account client life-style preferences, building site and environmental conditions as well as local building codes and requirements. |
| | | | | |
| --- | --- | --- | --- | --- |
| | | | | |
| This double pedestal home design with carport was built in British Columbia, Canada. | | Beautiful custom designed pedestal home with 360-degree views of Japan's countryside. | | Built at a Baltic Sea Resort in Germany, these two-story homes are the perfect getaway. |
We have custom designed and exported prefab home kits as small as 500 sq. ft. and as large as 20,000 sq. ft., and we can adapt our designs to any foundation type from our distinctive pedestal design and pilings (stilts) to more standard slab-on-grade and crawl-space foundations.  And unlike other prefab kit home companies, we provide budgetary guidance with free cost estimates, in-house architectural and interior design, and we have decades-long experience in properly specifying low-maintenance materials to meet local environmental and aesthetic requirements. We don't just provide prefab home kits and building components, we provide each client with the guidance of our skilled team of professionals to assure the best possible outcome for each project.