"After my home was destroyed by a hurricane, I said I would never build another home at the beach front unless it was hurricane proof. A friend told me about Topsider Homes, and after doing the research I decided it was the perfect fit. My Topsider has been through numerous major storms and hurricanes and each time has come through in one piece."


Joe K., Florida, Topsider Homeowner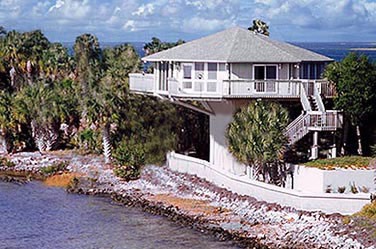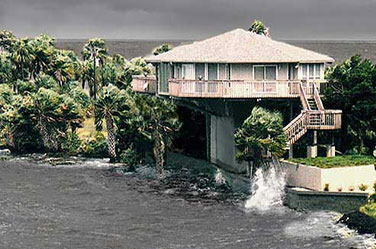 Pedestal, Stilt & Piling Houses Naturally Resistant to High Winds and Storm Surge
Topsider Homes' storm and hurricane-resistant features are the result of a unique blend of modern engineering and state-of-the-art building technology, combined with a time-proven post & beam building system.
"While the destruction on the island [Green Turtle Cay] was devastating to most of the home owners [after Hurricane Dorian], the four [Topsider] houses came through basically unscathed… bottom line, after 45 years and countless hurricanes the [Topsiders] are still standing strong. This is a testament to the quality of the home you build. We will always be a believer in the Topsider design and quality."

- Paul and Karen H., Abaco, Bahamas

| | | |
| --- | --- | --- |
| This combination creates houses that are structural battleships, resistant to tropical storms, hurricane force winds and storm surge. And because our pedestal, stilt and piling homes for beach front and coastal areas are elevated and often multi-sided in design, storm and hurricane winds flow around, over and under them with far less damage-causing wind resistance than with conventional houses. | | |
Beach front & Coastal Area Houses - Custom Designed and Engineered to Withstand Hurricanes and Meet Local Building Codes
Topsider's in-house design staff and consulting engineers have been designing and specifying beach front and coastal area homes for decades, and are knowledgeable of ever-changing building code requirements from Florida to Hawaii. We are highly experienced working with local building officials and various agencies, including coastal commissions, FEMA, the US Army Corp of Engineers, the Coastal Zone Management Act authorities, and various state and local agencies, such as Florida's Department of Environmental Protection (FDEP) and North Carolina's Coastal Area Management Act (CAMA) authorities.

Proper specifications are the key to building a beach front or coastal home that is potentially storm proof and hurricane proof. Learn more about Topsider's approach, its specifications and expertise in custom designing unique pedestal, piling and stilt houses resistant to the effects of severe weather conditions, and the degenerative effects of a tropical climate and salt-air coastal environment.
Popular Piling & Stilt Hurricane House Plans