THREE GENERATIONS FEEL RIGHT AT HOME
Written by Rebecca Juretic
Photographed by Lance Kinney
Kathleen Brown, her mother Marian Brown and adult daughter Danielle Noland are as close as three generations of women can be.
"When we're together we're like three peas in a pod," said Kathleen.
So when she and her husband, Rick Sauerwein, made plans to relocate from Oxnard to San Luis Obispo County in 2006, it was a foregone conclusion that all three women would make the move together.
The couple looked for the right locale for their multigenerational family home and finally settled on an 11-acre or so avocado ranch in Morro Bay.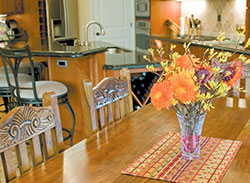 The Sauerwein-Brown clan had several goals for the house.
They needed it to be large enough to encompass both private and communal spaces. They wanted it to be ecofriendly. And they needed it to be accessible by wheelchair and walker; Marian was in good health and had been living independently, but she or other family members might have physical limitations in the future.
The couple was drawn to post-and-beam construction because of the freedom it offered. With no load-bearing interior walls, it offers nearly endless possibilities for floor plans. Because the home's center post bears 90 percent of its weight, exterior walls can encompass large banks of windows.
"We wanted to have lots of light all the way around, with the feeling of outdoor and indoor intermixed," said Kathleen.
They decided to work with Topsider, a manufacturer of custom prefabricated post-and- beam homes based in North Carolina. Rick, who is a civil engineer, worked with Topsider to design the two-story structure. He also took a yearlong sabbatical to oversee construction of the home.
The family realized they would need more space than one of Topsider's signature octagon-shaped structures would allow. Their solution was to build an additional attached structure that would encompass a four-car garage and mudroom on the lower level with additional living space above it. All together, the home's living space would be 4,500 square feet.
The couple solved the issue of ensuring privacy for each family member by offsetting rooms on each level by a few steps. For example, the communal great room and Rick and Kathleen's bedroom suite are just five steps up from daughter Danielle's suite, yet each space feels separate and distinct.
Instead of limiting accessibility features to one area, the family decided to make the entire home accessible for individuals with physical limitations.
"We wanted anyone who came to the house to be able to use the entire house," Kathleen explained.
Bathrooms are equipped with walk-in showers, grab bars and elevated toilets. The family also decided to install an elevator that goes to every level, including the rooftop deck.
Eco-friendly features were incorporated as well. The family designed the house to be energy-efficient and used sustainable materials whenever possible, such as reclaimed Douglas fir for siding and ceiling treatments, cork and stained concrete flooring, and natural earth plaster walls.
Decorating the house meant essentially combining three households into one. Because Marian and Danielle have distinct living areas, each was able to bring their favorite pieces with them. Marian kept many of the traditional family pieces she has lived with for many years. Danielle favors a more youthful, contemporary style.
Rick and Kathleen decorated the rest of the house to complement their new ranch lifestyle.
"We aren't formal fussy people," said Kathleen. "The dogs are inside at night and we have a lot of guests. Things have to be livable and practical."
To them, this calls for durable leather upholstery and sturdy wood furniture with simple lines.
The home was completed just before Christmas in 2007. Although the clan is living their dream of having a coastal family compound, their busy lifestyles have not ceased. Rick commutes to Salinas where he works for the County of Monterey. Kathleen works from home as an IT executive and travels frequently. Both Marian and Danielle lead their own busy lives. And the family also oversees their avocado orchard, which encompasses around 1,000 avocado trees.
Like their house, life for this family is a comfortable balance of independence and togetherness.
"We're a small but very tight family," said Kathleen, "and when it comes down to it, family is the most important thing."