Building Green, Energy Efficient Homes Since 1968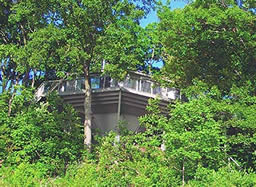 Topsider's eco-friendly pedestal design foundation allows only minimal disturbance to the natural enviornment.
Topsider's pedestal home design is the world's most environmentally-friendly foundation. This unique pedestal foundation approach was originally conceived in 1968 to permit building on difficult terrain with only minimal disturbance to the natural landscape and environment. But beyond this obvious green feature, today's green building practices have always been Topsider's practices, focusing on both eco-friendly, efficient design and the utilization of replenishable materials.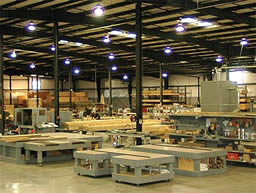 Prefabricating homes in an efficient and controlled factory seetting significantly minimizes waste.
One of the major green features of Topsider Homes is their natural efficiency in heating and cooling – the major energy consumption feature of most homes. Topsider's multi-sided designs have considerably less exterior wall surface than rectangular homes of similar size, and since interior floor plans have few, if any, long hallways, the length of heating and cooling ducts is minimized and is far more efficient. Additionally, Topsider's standard floor-to-ceiling windows allow passive solar heat gain. For cooling, standard three-feet wide eaves provide summer shading, while rooftop cupolas with operating windows permit efficient ventilation and natural cooling. Combined with Energy Star-rated appliances, high-performance windows, doors and skylights, and the appropriate insulations for each setting, overall energy consumption is significantly minimized.
Topsider Homes uses only lumber and plywood that is farm grown as a renewable resource in each of its prefabricated components. In fact, all of Topsider's building materials are evaluated with respect to their "greenness."