Beachfront and coastal pedestal, stilt and piling
foundation home designs.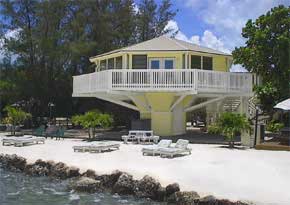 Gulf Coast beachfront pedestal home standing since 1980. [Florida Keys]
Topsider Homes offers many foundation options for construction of oceanfront homes, or coastal area homes being built in storm surge and flood plain zones. Topsider stilt houses and pedestal foundation homes have been built extensively in beachfront and coastal settings in the USVI, the Bahamas, Hawaii, Florida and along the Gulf Coast to Texas, and up the Eastern Seaboard to Virginia and even in Maine.
Low country style two-story stilt home design. [Cedar shake exterior finish look]

Building codes generally require oceanfront homes, or those nearest the beach, to be elevated 10-ft to 20-ft above mean high tide. This requires them to be constructed on structural pilings [for stilt houses], or as an alternative, Topsider's unique pedestal foundation. Inland coastal area building sites, prone to secondary flooding and storm surge [particularly along canals and intercoastal waterways], tend to have lower elevation requirements; often only 2-ft. to 5-ft above mean high tide. These sites may allow the use of more traditional foundations such as crawl-spaces and raised slabs. And in some areas, importing fill dirt to raise the building site to the desired elevation may also be a cost-effective alternative. Topsider's building system can accommodate any foundation choice, whether for stilt homes, pedestal homes, crawl-spaces or slab-on-grade foundations.
Pedestal or piling foundation houses, built to withstand storms, storm surge and a salt-air coastal environment.
Double pedestal home built oceanfront.
[Abaco Islands, the Bahamas]
Topsider Homes' track record since 1968, of designing and providing coastal homes that survive devastating hurricanes, is impressive. Our beachfront stilt houses, built on wood and concrete pilings, and pedestal foundation homes have withstood direct hits from Hurricane Maria in the USVI, Hurricanes Irma and Michael in Florida and the Florida Keys - and Hurricanes Dorian and Sandy in the Bahamas and Carolinas.
In addition to being hurricane and storm resistant, first row oceanfront homes must also be resistant to tidal and storm surge, and to the scouring and erosive effects of wave-wash on house foundations. Topsider's pedestal homes and piling houses are ideal for these considerations, but surviving storms is only part of the acclimatization that is required when building in a coastal area. Topsider Homes are also designed to withstand the significant degenerative effects of the tropical and salt-air climate that coastal homes must endure (learn more about Topsider Homes' tropical, salt-air and coastal climate specs).
Custom beachfront stilt and pedestal foundation homes designed to meet or exceed coastal building codes.

Luxury stilt home design concept.
Topsider Homes are the perfect blend of function and beauty, together with an in-house services package and client assistance program that are unrivaled, and help assure that each new home building project is a success. Each Topsider Home is custom designed in-house by our experienced design staff. They take into account client lifestyle choices and design preferences, budgets, the demands of the building site, and requirements of local building codes and officials.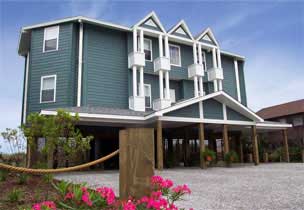 Large oceanfront two-story home.
[Coastal North Carolina]
The FIRST STEP is to select a basic design concept from our online house plans. There are many choices from which to select: one-story, two-story, and combinations of several individual units. Topsider's coastal area designs can range from small 475 sq. ft. beach cottages to sprawling 10,000 sq. ft. luxury homes. Our unique post & beam building system allows nearly unlimited size and design flexibility.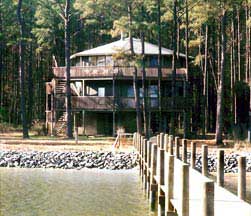 Two story stilt home on the Chesapeake Bay.
[Kilmarnock, Virginia]
The SECOND STEP is to receive a Free Cost Estimate for the home concept selected. These estimates include local construction costs, so that prospective clients can get a general idea of what their overall built costs might be. After that, we encourage prospective clients to begin a dialog with one of Topsider Homes' Project Managers, whose job it is to guide a project through all phases, from design to construction.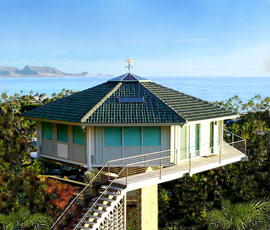 Tropical coastal pedestal home
[Kailua, Hawaii]
TOPSIDER -
The Home
that is a Vacation.

From a secluded tropical retreat in Hawaii or the Virgin Islands to a sprawling luxury oceanfront home in the Bahamas or Florida, Topsider Homes' designs are as varied and diverse as our clients and their imaginations. Stunning panoramic views and vaulted ceilings are standard with Topsider's post and beam building system, as are interior spaces that flow into the natural beauty that one finds at the coast.