Topsider Homes' Piling, Pier & Stilt Houses & Hurricane Home Plans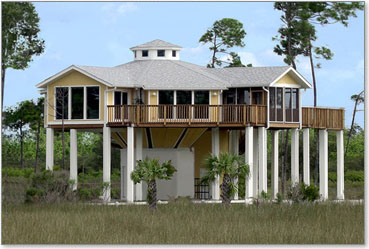 Pilings (also referred to as stilts or piers) may be the perfect solution for building or rebuilding after hurricanes like Dorian, and Sandy near the coast and in flood plains. Their flexibility in height also makes them ideal for uneven terrain or where elevation is desired to enhance views of the natural surroundings.
In some locations building codes will specify the height and type of piling or stilt foundations.
This is especially true in hurricane and severe weather zones like Florida and its Keys, the Gulf Coast to Texas, the Carolinas, New York and New Jersey, as well as in places like California and Hawaii, where sloping terrain, seismic activity and land slides must also be taken into account.
Coastal & Flood Plain Piling and Stilt Homes Vary In Height and Type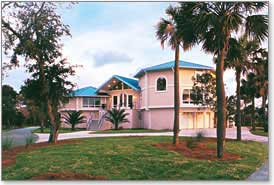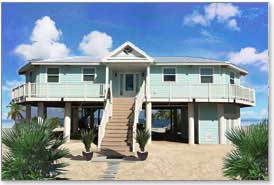 Piling and stilt home heights typically range from a few feet above ground to as much as 10 to 20 feet or more in coastal, hurricane and flood plain areas. Some Topsider stilt houses have been designed on steel pilings that are more than 25 feet tall. Pilings may be constructed of wood, concrete, steel or even composite materials. And they are usually driven, augured or jetted into place.
In some areas it is common to install below-the-surface pilings, cap them at ground level and build reinforced poured or concrete block piers to support the structure above.
Virtually any Topsider Home design can be constructed on piling or stilt foundations.  But, what often makes Topsider Homes the ideal choice is that each home is custom-designed to meet the needs of clients, their budgets, building sites and local building code requirements.
Topsider's in-house design and technical staffs custom design each home and take the technical lead for permitting and approvals while our construction liaison department recruits potential builders and receives bids for local assembly and finish construction.