Topsider Beach & Coastal Homes
Beach Front & Coastal Stilt and Piling Home Building
Topsider stilt and piling homes have been built extensively in beach front and coastal settings throughout the US, Caribbean and Bahamas with innumerable homes in Florida - many along the Gulf Coast, and up and down the Eastern Seaboard from Florida to Maine. With many foundation options available based on building location and client preference, Topsider's hurricane-resistant post & beam structural building system is ideal for elevated beach front and coastal area construction.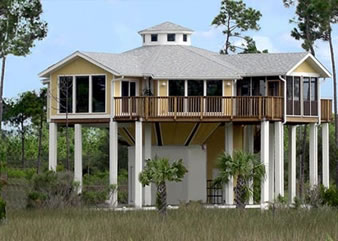 This imposing coastal Florida home features a combination of Topsider's pedestal and piling foundations. A literal "battleship" of a structure, this hurricane-resistant home was engineered to survive hurricane-force winds, and was elevated nearly 20-ft for protection from storm surge.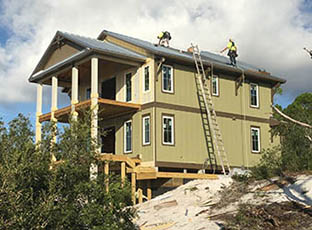 This beach front traditional Florida style two-story stilt home design (shown during construction) is a great example of the design flexibility of Topsider's hurricane-resistant post & beam building system.
Building codes generally require beach front homes, or those nearest the ocean, to be elevated 10-ft to 20-ft above mean high tide. This requires them to be constructed on structural stilts or pilings, or as an alternative, Topsider's unique pedestal foundation. Inland coastal area building sites, prone to secondary flooding and storm surge [particularly along canals and intercoastal waterways], tend to have lower elevation requirements; often only 2-ft. to 5-ft above mean high tide. These sites may allow the use of more traditional foundations such as crawl-spaces and raised slabs. And in some areas, importing fill dirt to raise the building site to the desired elevation may also be a cost-effective alternative. Topsider's building system can accommodate any foundation choice, whether for stilt homes, pedestal homes, crawl-spaces, raised slab or slab-on-grade foundations.
Stilt or Piling Houses, Built to Withstand Hurricanes, Storm Surge and the Salt-Air Coastal Climate