Since 1968, Topsider Homes has designed and shipped quality prefab homes and building materials packages for Bahamas and Caribbean home building
We know and understand home building in the Bahamas and Caribbean. Years of experience makes Topsider uniquely qualified to deal with the many challenges of Bahamas and Caribbean construction. We understand issues ranging from import duties and customs clearance to remote site shipping logistics and the realities of designing and specifying structures that withstand severe tropical climates and can be built by local labor.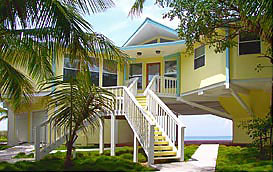 Free Cost Estimates provide budgetary guidance. Once we know about your proposed building site, design preferences and price range, we will prepare a No-Obligation Free Cost Estimate for the Topsider design concept that most closely fits your needs. Estimates include a detailed quotation for the Topsider home package delivered (with estimated import duty and taxes), along with an itemized estimate of local construction costs. And once you enter the design phase, as your custom design evolves, revised estimates are provided with each revision, ensuring that you remain in control of the scope and cost of your new home building project at all times.
Your Topsider Homes Package can include as much or as little as you wish. Topsider typically supplies the "weather tight" shell components for each house, including windows, exterior doors and decking, plus interior aspects such as framing, interior doors, cabinets, countertops and flooring. Many individuals building in the Bahamas and Caribbean also take advantage of our "one-stop shopping" approach and ask us to provide everything from bagged concrete to appliances.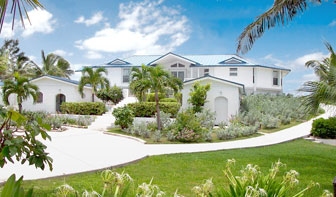 This luxury hurricane proof Topsider Home, built ocean front,
on Cat Cay, Bahamas, provides safety against storms
and an exceptional island living experience.
Click HERE to view the house plan.
Our team becomes your team - from start to finish. Our services package is unmatched. Your team will have an overall Project Manager, a Design Coordinator and a Client Services staff member (whose role is to coordinate your project during the manufacturing, shipping and building phases). From the design phase through builder recruitment and assistance, to house completion, our job is not done until your home is done. This comprehensive support package is particularly valuable when building in a remote location.
The Family Islands Development Encouragement Act Makes This the Best Time for Building in the Bahamas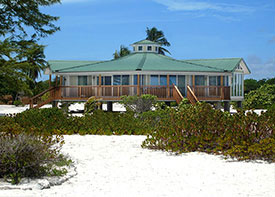 Building in the Bahamas provides key benefits to home buyers through the reduction and elimination of duty fees on a variety of building materials, appliances, and fixtures.
Customs duty on building materials for home construction has been reduced, thus significantly reducing the cost of building a new home or renovating an existing one. The legislation states that import duties on a number of building materials such as plywood, oriented strand board (OSB), insulation, wooden hurricane shutters, aluminum and wood doors, wooden windows and cement board have been reduced or eliminated altogether.
Homeowners who desire to build green will also reap significant savings with a flat 15% import duty on energy-saving home appliances, energy-efficient windows, water-saving toilets and low-flow shower heads.
If building a home on an island that is not import duty exempt, the average import duty rate for building materials is 35% with a 10% Value Added Tax (VAT).
These islands are now, and will continue to be, Import Duty exempt: Andros, Cat Island, San Salvador, Long Island, Rum Cay, Sweeting's Cay and Water Cay (Grand Bahamas), Grand Cay and Moores Island (Abaco), Crooked Island, Long Cay, Acklins, Ragged Island and Cays, Mayaguana, and Inagua.

These islands will also be exempt through June 30, 2026: Abaco, Bimini and Grand Bahama Island (East and West Ends.)
NOTE: Other conditions and interpretations may apply, so do not rely solely on the above information without first verifying it for your circumstances with the Bahamia Governament's office.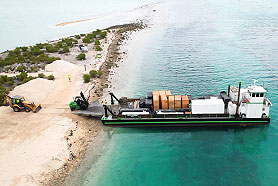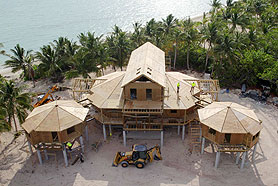 This magnificent luxury home, built in a remote location on North Andros, Bahamas, is shown during construction. All building components and materials were provided by Topsider and barged to the building site. Topsider specializes in custom designed and highly engineered hurricane-resistant low-maintenance houses for remote locations worldwide.
Click HERE to learn more about the comprehensive services we offer for our off-shore clients.