Building tropical climate, hurricane resistant coastal and island homes since 1968.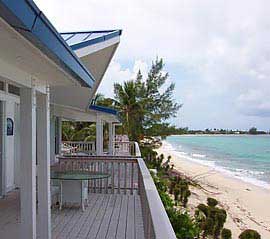 Island beach home. [Cat Cay, the Bahamas]
Coastal area and beachfront Topsider Homes are each custom-designed, engineered and specified to accommodate client preferences, the demands of the building site, and the requirements of the various building officials and agencies involved. Unlike non-coastal area building, coastal areas often also involve the U.S. Army Corp of Engineers, Coastal Area Management Act (CAMA) officials, coastal commissions, state environmental protection agencies, and in some cases FEMA.
Topsider's in-house design group and consulting engineers regularly deal with these officials and agencies, and work closely with them in developing the various plans and specifications that they require for each building site. Typically, their oversight relates to issues such as house size, elevation above flood levels, height limit restrictions, building envelope and sighting guidelines, utilities, location of protected and protective vegetation, wildlife habitat, the structural integrity of the home and so on.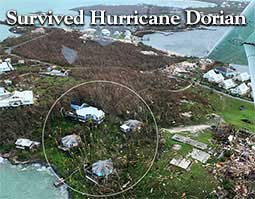 These Topsider pedestal homes survived a direct and lingering hit from Hurricane Dorian in the Abaco Islands on Green Turtle Cay in
the Bahamas with sustained 185 mph
winds and gust up to 220 mph.
Click
HERE
to read an owner's testimonial.
House height elevations above ground level, for example, vary dramatically within relatively narrow geographic distances at the beach and on many barrier island locations, depending upon the natural elevation of each building site and its relative risk and vulnerability to flooding, tidal and storm surge, wave-wash, winds and other factors. Structural requirements for wind resistance also vary significantly, based upon the distance from the ocean. In most coastal areas, wind resistant requirements are defined as velocity [in miles per hour] and are pre-established in zones, referred to as Wind Velocity Zones. These continously changed with each new code revision. In Florida, for example, they presently range from 115 mph to 185 mph.
These and other considerations will dictate to some degree the general practicality and cost-effectiveness of the Topsider design style and foundation type that may be appropriate, e.g., pedestal or stilt (structural pilings) foundations for more weather-vulnerable sites, and raised slab or crawl-space foundations for less vulnerable and lower elevation requirement sites. All of these requirements stay in flux, and just because a home could be built slab-on-grade five years ago in a specific area is no guarantee that it can today.
Specifications make the difference for low maintenance tropical and salt air climate coastal home building.
Some of the common specifications Topsider provides for coastal area construction include upgraded structural members and steel couplings, specialized hurricane fasteners and clips, high DP (design pressure) windows and high impact (missile-resistant) glass in windows and glass doors. Storm shutters (also referred to as hurricane shutters) are also very popular and in some locations, such as the Bahamas and USVI. High wind-rated roofing materials, such as metal roofing and other types of more traditional upgraded shingles are usually required.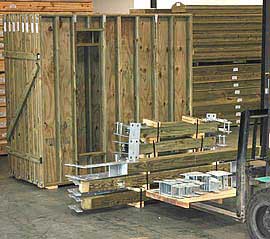 Prepackaged treated lumber walls and structural components with galvanized steel couplings staged and ready for shipment.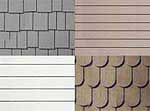 Low maintenance exterior siding choices impervious to rot, mildew and insects.
For homes being built in wetlands, coastal and ocean island settings, specifying low maintenance materials resistant to a salt-air environment or tropical climate is as important as making sure that the structure is hurricane and storm resistant. Topsider has beachfront homes in the Bahamas and Caribbean which were built in the late-1960s and 70s, and many coastal, marshland and tropical island locations, that have stood the test of time. But, whether building in a rain forest on the Big Island of Hawaii, or the New Jersey shore, the natural forces are going to be severe, and Topsider Homes knows how to specify its designs for such locations, and has years of experience to back it up.
Today's Topsider Homes built in hot or humid tropical climates, salt-air and insect infested environments, are built utilizing low maintenance materials, which include treated lumber to resist rot and insects, hot-dip galvanized exposed steel couplings and fasteners, stainless steel fasteners utilized in the manufacturing process, quality vinyl (or vinyl clad) windows and sliding doors, fiberglass entry doors, and stainless steel or composite material door and window hardware. Exterior siding products also include options for cementitious sidings (cement and fiberglass composites), e.g., HardieBoard™ and HardiePlank™, LP SmartSide®, along with stucco and synthetic stucco products like Dryvit® , vinyl siding and many more. And even decking materials are available today in low maintenance synthetic composites for the surface, e.g., Trex Decking®, and railings made of stainless steel cable. All of these and many more low maintenance, long life products are designed into and specified by Topsider's in-house design staff as house plans are being developed. These specifications help ensure that each Topsider Home will last a lifetime and hold its value.
Custom designed and engineered luxury beach house plans. Ideal for coastal home building in Florida, the Florida Keys, the Bahamas, the Virgin Islands, the Gulf Coast and coastal areas worldwide.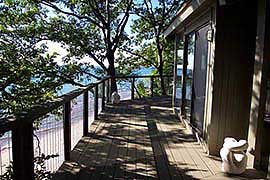 Stainless steel cable railing and composite deck, overlooking the beach. [Coastal Oregon]
Properly specifying a low maintenance tropical island home, coastal area or beach house, and surviving hurricanes and storms are not the only reasons clients build Topsider Homes. They build them because they are ideal for the lifestyle and beauty that such locations provide. Every Topsider home has floor-to-ceiling windows to exploit nature's coastal views and vistas, large living spaces with vaulted ceilings and exposed beams, plentiful exterior decking, and all of the custom-designed features one would want in a new house.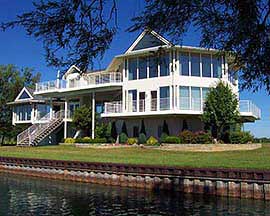 Spacious custom designed coastal island home.
During the design phase, our in-house design staff works closely with clients to plan their houses, down to the smallest detail. Every client idea, feature and finish is considered and will be priced so that budgets are met and surprises are minimized. And when the final house plan is completed it will be engineered to confirm its stability and structural integrity, before submission to building officials for permitting.
Whether a small beach cottage, or a sprawling 10,000 sq. ft. luxury home, each Topsider Home will be custom designed utilizing our unique panelized post & beam building system. But Topsider provides more than just custom house plans, building components and materials, it also assists clients with builder recruitment, building permits and approvals, and stays involved in each project through completion.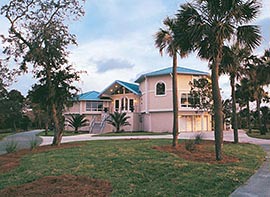 FREE COST ESTIMATES
& CUSTOM DESIGNS
Topsider works with clients in the early stages to establish budgets. It begins by selecting a design concept from our online house plans and receiving an estimate. From there we work together through the design stage, then local engineering, building permits, financing and builder recruitment.
Coastal island luxury home with metal
roof and stucco exterior. Built on pilings
[Tybee Island, Georgia]